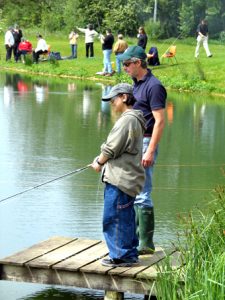 2019 REPORT
On Wednesday 2nd October 2019 we were at Rib Valley for the last of  five events this year.  It has been another great year with over 125 young Special Needs guests joining us for a fishing experience at Rib Valley nr. Ware and Riverside Road, St. Albans.
We continue to be in awe of our anglers, helpers and catering team who give up their time to help put something very special into the lives of the less able or troubled youngsters, interacting with our young guests and helping them to do something special or just be kids for a day.
This all comes together on an event day, from the very welcome hot breakfast for the volunteers and a tasty hot lunch for everyone. We work together as a superb team with the harmony that characterises our events. This harmony has such a positive effect on all our young guests.
This is more than just fishing, it is an experience of communication, understanding and working together. Some of the youngsters have difficulty trusting, communicating and learning.  We provide a day when positive things really do happen. Each of us can recount days that bring a tear to the eye.
2017 Report from the Hertfordshire Branch
This year we have held 5 events, 2 at Rib Valley Lakes, Westmill Farm (near Ware), 2 at Verulam Angling Club's Riverside Fishery (St Albans) and 1 at Tolmers Scout Camp (Cuffley), involving over a 120 participants.
The last this year was on  3rd October at Rib Valley Lakes, Westmill Farm, Nr. Ware.  35 young Guests joined us on  a beautiful sunny day, the day was really rewarding with many happy faces and lots of fish caught.
The day was known as the Provincial Community Day and was well attended including the Deputy CEO of the Charity Graham Snell.
On Saturday 2nd May 2015 the Herts Team were busy at the Kimpton Show. It was a great day with almost 300 people visiting our now famous "net a duck" game. At times people were queuing to have a go at netting a duck and maybe winning a prize. Four persons asked to join the Charity as volunteers. Great fun for all including the team.
2014 Report of the Hertfordshire Branch
Our season finale event was the Provincial Community Day at Westmill Farm on the 1st October, involving 37 participants from 4 Special Needs schools, this was sponsored by the Province. It was attended by our Provincial Grand Master Paul Gower and several of the Provincial officers, plus on the day the Pro. Grand Master Peter Lowndes came to visit as well, both he and the PGM were inveigled into presenting the certificates of achievement and medals (these are given to participants who got the most out of the event as decided by their teachers/carers). Weather started off a bit damp, but had ceased drizzling before the participants arrived and stayed dry all day thankfully, so the ponchos stayed unused for another event. A good time was had by all.
The Masonic Fishing Charity was started by Hertfordshire masons. We were pleased to also have some Trustees and the CEO from the charity in attendance, together with the charity's new president, Roger Croome (recently retired Middlesex Pro Grand Master).
None of this could not have been done without the excellent work of the Branch Committee behind the scene, to name but a few, Jax Cain for taking 3 months to make the large fish used as a float in the Kimpton Carnival and on display outside our marquee at the Herts County Show plus her rescue a duck game, Mike Eames and his catering team for doing the food at all our events, David Kazwini our caster manager for getting enough anglers to run the events, John Clark the branch chairman for tying it all together and getting donations for our Herts Show stand.
We must thank all our sponsoring lodges and the Province for their donations, as without them funding our events they couldn't take place., also the venue owners for letting us use their venues for our events:- Westmill Farm Ltd & Rib Valley Angling for our Rib Valley events; Verulam Angling for Riverside Fishery; The Tolmers Scout Camp for our Tolmers event.
How you can help
Do you know any experienced coarse anglers or fly fishers, we need anglers able to give up a day mid-week, during school term time to look after a disadvantaged person at one of our events and show them how to fish. They do not need to be masons but this could be a way of introducing them to what freemasonry is about.
Donations from a lodge or chapter even in this time of Festival would be welcomed, it costs the Charity about £50 a participant to attend an event (NB It's the Charity that pays for this from your donations, not the child).